Our System

Whether your goal is to build strength, increase flexibility, or lose a few unwanted pounds, it begins with the decision to change your lifestyle, and it should begin today.

The longer you wait, the further you're getting from your goal. Those calories aren't burning themselves. Make the commitment to be healthy. We'll be your partner every step (or plank or squat thrust) of the way. We specialize in personal nutrition, 1 on 1 and small group personal training as well as natural nutritional supplements to expedite your results.
Individual Training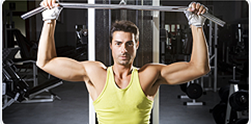 We offer private 30 and 60 minute personal training sessions within our studio to the person looking for customized results when convenient for them! We run this service by appointment only and will dedicate the whole appointment to you the client and your personal trainer. No other members or gym memberships required as we are fully equipped and ready to rock and roll! Get the results you want now! All of our trainers have 4 year Bachelor of Science degrees from accredited universities in the field!


Semi-Private Training
There's strength in numbers. True statement. We offer semi-private sessions from 1-3 people. We understand that some people may want to challenge each other to earn the results they are wanting to achieve.
We will have the program customized to your group and ready to rock and roll for your appointment time! No gym membership required as we are fully equipped and by appointment only.